By Patrick Henry
Published: January 17, 2014
It isn't a question of whether or how Kodak will differentiate itself in its new second life as a B2B company focused on imaging for business. "We have more technologies than we know what to do with" for that purpose, declared Antonio M. Perez, Kodak's president and CEO. It's simply a matter, he noted, of doing it the right way.
Personified by Perez, Kodak's renewed self-confidence was on full display as the company grandly relisted its common stock at the New York Stock Exchange (NYSE) on January 8. Witnessing Kodak's return to the NYSE in a ritual that included ringing the opening bell over the trading floor were about 100 key customers the company brought to New York City for the occasion.
Bankruptcy declared in January of 2012 led Kodak to delist all previous outstanding shares of its common stock, which had been traded on the NYSE since 1905. It issued new common stock under the ticker symbol KODK upon emerging from Chapter 11 last September.
The company resumes public trading after undergoing a drastic restructuring that included selling off hundreds of millions of dollars worth of imaging patents; shedding its iconic consumer products; making wrenching decisions about layoffs and pension plans; and pinning its future on a mix of proven and not yet fully developed imaging solutions for printers and other business customers.
The net result, according to Perez, is a "remarkable transformation" that will lead to growth and profitability in the areas where Kodak has chosen to specialize. "It's a new year, with a new company, a new stock, and a new start," he said.
Minus its cameras, retail films, and other popular items, Kodak now consists entirely of products and technologies that were largely invisible to its once-vast base of consumers.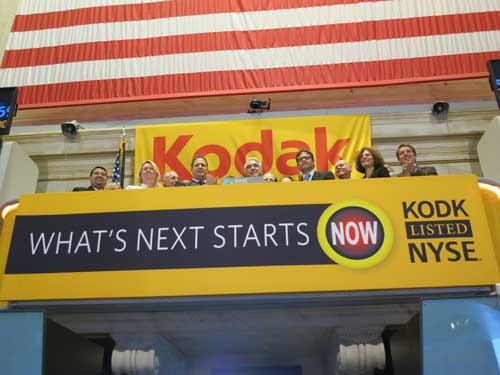 At a briefing following the bell-ringing ceremony, Terry Taber, Kodak's chief technology officer, said that the reorganized company's strength lies in its ability to integrate three core technologies—materials science, digital imaging science, and deposition processes—and apply them to commercial markets where Kodak sees the greatest opportunities for growth.
Materials science addresses the formulation of inks, toners, and imaging layers for plates. Digital imaging science spans the Kodak products that printers are most familiar with: printing systems, workflow, and consumables. Through deposition processes, Kodak explores the interaction of substances with substrates for a variety of industrial applications.
Going forward, Kodak intends to bring these core technologies to bear in solutions for product goods packaging, graphic communications, and functional printing. The latter is an advanced form of manufacturing for device screens, touch panels, microelectronic systems, and other non-print applications. Kodak also will continue to do business in entertainment imaging and commercial films.
Kodak's Stream inkjet technology is an example of an asset that Kodak hopes to leverage in multiple markets, not all of them related to traditional print. Stream technology underlies the company's Prosper inkjet production presses, which Perez declared to be "ten times better" than competitive platforms. It also is applicable to printing on fabrics, tile, wall coverings, and flexible films for packaging.
Stream inkjet technology has "many, many more iterations to come," according to Taber. "We designed it with a lot of latitude" for future applications," added Perez.
In the same vein, Taber noted that the company's SQUAREspot laser imaging technology—now used in Kodak thermal CTP units for offset and flexo plates—also can be harnessed for functional printing.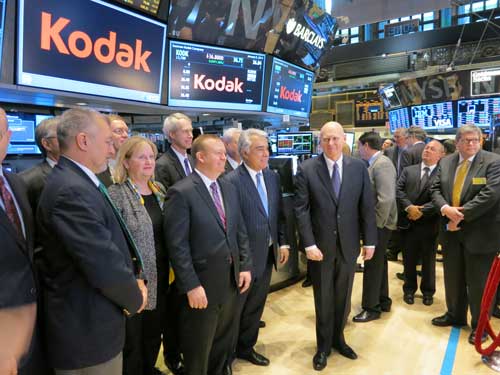 The two invited a pair of industry pundits—Marco Boer, consulting partner, IT Strategies, and Frank Romano, professor emeritus, Rochester Institute of Technology—to join them in an overview of Kodak's markets and its prospects for success in them.
Romano saluted the company for "helping printing move forward in all of its markets." He also said that Kodak, once an "academic" environment where things tended to move at "a glacial pace," was now a leaner, more agile organization better poised to innovate.
According to Boer, among the 300 digital printing suppliers tracked by IT Strategies, Kodak is one of just a handful with across-the-board expertise in the building-block technologies. He said that Kodak can lead what he described as "a renaissance in the digital printing industry" by forming pragmatic partnerships with other companies.
Perez summed up Kodak's newfound self-assurance in a response to a question about future talent recruitment at Kodak, which has laid off 47,000 workers since 2003.
As word of the company's progress reaches the kinds of people Kodak needs to carry out its plans, said Perez, "they'll find us."